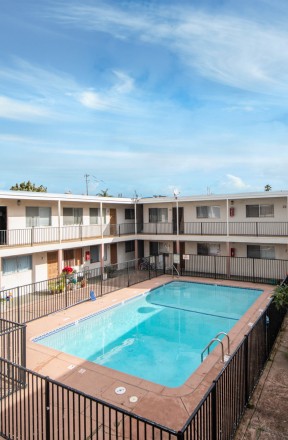 28-UNIT APARTMENT COMPLEX
28 Units
•

$6,000,000
The Harbor View Apartments is a 28-unit complex in the "Canal" area of San Rafael. There are 3-3BR apartments and 25-2BR units. Overall, the building is in average condition and would benefit from remodeling and upgrading. Current rents are significantly below market rates. 13 of the units have deed-restricted rents.
The property is in an "opportunity zone," potentially allowing an investor to remodel the units to take advantage of the significant tax savings in doing so.
The building was built in 1961 with a garden courtyard design around a central swimming pool. There is covered parking along one side of the building providing one space per tenant. The building has two water heaters and a common laundry room. Gas-fired wall heaters provide the heating and kitchens feature a gas stove.
Overview:
This property is for a long-term hold Buyer. For someone holding the property for 10+ years, the issues of the "Below Market Rent" restrictions go away, and the rents can be brought fully up to the market.
The property is priced considering the current low rents, need of work, and the deed restriction for below-market rents on 13 of the 28 units.
The Harbor View Apartments was built in 1961.  It is a two-story garden complex built around a central swimming pool with 3-3BR apartments and 25-2BR units. Construction is wood-frame with a slab foundation with a flat roof. Most upper story units feature a private deck. Many of the lower apartments have patios.
There is covered parking available on a 1:1 basis. There is one common leased laundry room for the tenant's use and two water heaters serving the complex. Apartments are separately metered for, and tenants pay their own PG&E. Kitchens have gas ranges and no disposals. Heat is by gas-fired wall furnaces.
Opportunity Zone:
The Canal area of apartments is the only area in Marin County that qualifies as an "Opportunity Zone." Investors that want to take on remodeling this project may qualify for substantial reduction of capital gains tax or the possibility of no tax on gains if held for the proper time period. Trading into an Opportunity Zone property allows for a possible substantial reduction in the gains of your trade property. This is a complicated tax issue that must be discussed with your financial advisor.
While the apartments have been maintained and somewhat upgraded through the years, this is a building that needs substantial modernization, upgrading, and repair. Most wall furnaces have recently been replaced. The roof is near the end of its serviceable life. Windows are original single pane and excessive moisture is readily apparent in many of the units. Kitchen and bath vent fans are substandard. The building did receive clearance for its most recent San Rafael strict code enforcement inspection in 2014. Call for complete disclosures and inspection reports.
Rents are significantly below the market. Projected market rents are assuming the same current condition. Remodeling should result in significantly higher rents. Many apartments do not have rental agreements. Rents and deposits to be confirmed with Estoppels to be provided.
 Statewide Rent Control:
SB 1482 became effective on January 1, 2020. In general, apartment rents cannot be raised more than 5% plus the cost of living index in any one calendar year. The current cost of living index is at 1.1%, allowing for a maximum 6.1% annual increase in rents. Units that are under some other Federal or State restrictive program are possibly not under the requirements of this ordinance and might be able to be raised at a different rate. Section 8 tenancies and units under Re-Development restrictions, may be exempt. How the law affects this property is beyond the scope of the broker and should be confirmed by a prospective Buyer and their legal counsel.
Re-Development Agency Restrictions:
In 2002, this property, in exchange for a low-interest rate $250,000 loan, entered into a 30-year agreement with the San Rafael Re-Development Agency to make 13 of the units available for low-income residents. While the owners have not designated specific apartments, 6 apartments must be available to very low-income residents and 7 apartments to low-income residents. A formula determines the maximum rent that can be charged for these apartments as a percentage of the Marin County Median Income.
According to my read of the agreement, the maximum rent for the six very-low-income units is 1/12 of 30% of 50% of the median income for a family of three less an estimated cost of utilities, if not provided ($93). The maximum rent for these units would therefore be $1,517, without utilities being provided. The seven units at low income have a maximum rent calculated at 1/12 of 30% of 60% of the median income or $1,839. As of April 1, 2020, the Median Marin County Income for a family of three is $128,800.
Recently the City of San Rafael confirmed that the deed-restricted units can be rented under the Section 8 program at full market rents (as the tenant still pays affordable rent).
The restriction document is complicated, and Buyers are encouraged to review the document and confirm the City of San Rafael's posted numbers as these may be higher or lower than the Broker's numbers projected from the agreement. Call for a complete copy of this document.

Michael Burke

Lic#00454938
415.877.1077
mburke@marinapartments.com
MarinApartments.com | My Bio
DISCLAIMER: The information set forth on this site is based upon information which we consider reliable, but because it has been supplied by third parties to our franchisees (who in turn supplied it to us) , we cannot represent that it is accurate or complete, and it should not be relied upon as such. The offerings are subject to errors, omissions, changes, including price, or withdrawal without notice. All dimensions are approximate and have not been verified by the selling party and cannot be verified by Decker Bullock Sotheby's International Realty. It is recommended that you hire a professional in the business of determining dimensions, such as an appraiser, architect or civil engineer, to determine such information. Sotheby's International Realty ® is a registered trademark licensed to Sotheby's International Realty Affiliates LLC. Each Sotheby's International Realty office is independently owned and operated.
The above information including square footage is based on data received from the seller and/or from public sources. This information is deemed reliable but has not been independently verified and cannot be guaranteed.